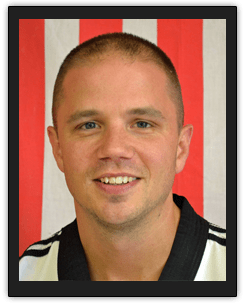 Master Josh Arcemont
Master Josh Arcemont is the owner and head instructor of Hero Martial Arts Academy in Spring, TX. His credentials and reputation span twenty years as instructor, competitor and motivator in life skills education. Along with his enthusiasm for helping kids appreciate the discipline and its principles, his expertise in the field of Taekwondo, fitness and other martial arts programs has made him one of the most trusted instructors in the region.
Master Josh Arcemont has won over 75 medals and trophies in such major State, Regional, National and International competition. He has extensively studied the art of Taekwondo, and is currently a student of the growing sport of Mixed Martial Arts.
Master Josh Arcemont is certified by The World Taekwondo Headquarters (Kukkiwon) and the American Top Team on Mixed Martial Arts. He is also a certified Hyper Martial Arts Instructor under Master Roland Osborn, and has been certified as an instructor under Kyoshi Dave Kovar and Master Melody Shuman. He is an active member of the Martial Arts Industry Association and has been a member of the National Association of Professional Martial Artists and the Martial Business Solutions organization.
Master Josh Arcemont has taught motivational and educational classes in over 50 schools including: Klein ISD, Tomball ISD, Magnolia ISD, Waller ISD, and Hempstead ISD. He was award the Partner in Education award by the superintendent of Klein I.S.D.
Master Josh Arcemont is a devoted husband and caring father of two kids– a son and a daughter. He is dedicated to sharing the values of life skills and character development; helping people of all ages adopt his philosophy, "Be Your Best."
Master Josh Arcemont has certified thousands during his career and has helped hundreds achieve Black Belt status.
Hero Martial Arts Academy competitive edge is achieved through their unique combination of successful programs, enthusiastic, knowledgeable instructors, respect for students and exceptional customer care.
Every employee at HERO in Spring, TX is a Black Belt and all have earned their Belts through our program. HMAA provides an extensive, innovative training program with an unprecedented level of instruction in a safe, clean atmosphere.
Here atHero Martial Arts Academy in Spring, Texas we believe martial arts should be available to everyone– regardless of age, race, gender or religious beliefs. We are focused on helping you achieve all of your long-term goals.
Our Little Dragon and Youth programs teach life skills in addition to martial arts; focusing on principles like sportsmanship, social interaction and respect for others—qualities that students can benefit from for their entire lives. We are positive that each of our students will leave knowing that their needs were met far beyond expectation.