Beginner Kids Martial Arts Classes Enrolling In 11/27/2022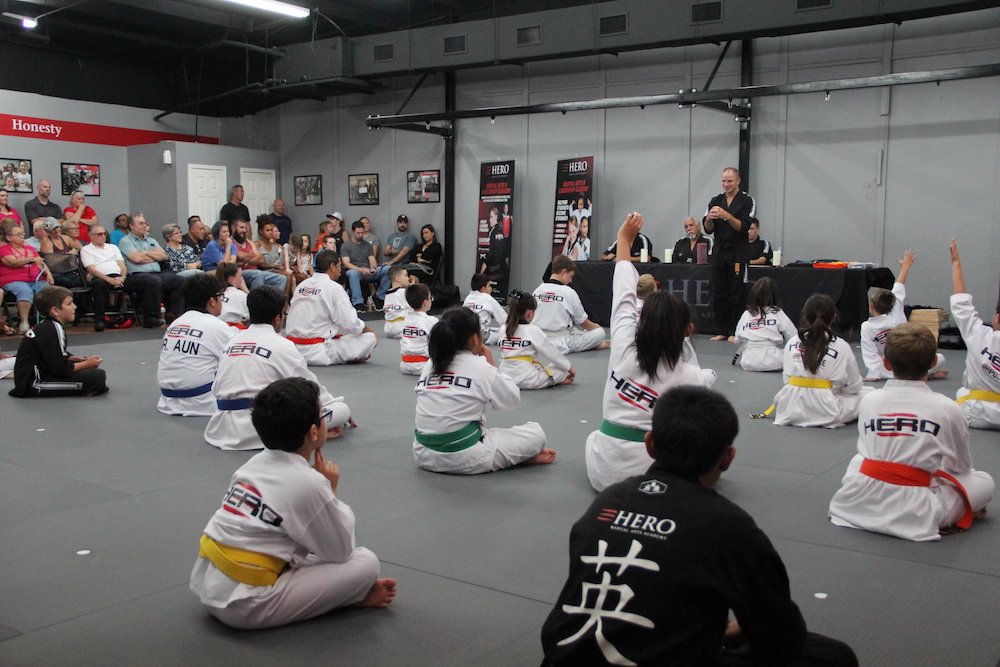 At HERO Martial Arts Academy, we create a fun, memorable class and use positive feedback to make sure your child builds a strong foundation of self-discipline, self-esteem and respect that can be transferred to his or her academics, sports and social activities.
While your kids are getting a great workout that they just can't get with any other physical activity, they'll be building rock-solid self-defense skills that will strengthen their confidence and prepare them for anything life throws their way.
MARTIAL ARTS PROVIDES COUNTLESS BENEFITS FOR KIDS!
HERO Martial Arts Academy's Kids Martial Arts program is specifically designed for kids ages 6-14. We teach a progressive style of Taekwondo that blends the best of various other martial arts into a complete system. We focus on training the entire child by physical training, mental training and character education. HERO is a family and our kids class is very friendly and high energy. Most of the kids you join will know several other kids form their school.
Our Kids Martial Arts program will help you child feel like a champ as your son or daughter gets a huge confidence boost training with our incredible Kids Instructors. In fact, our Kids Martial Arts program will give your child a world of benefits unavailable from any other extracurricular activity! Just take a look:
Improved listening and concentration skills that lead to better grades in school
Stronger muscles and cardiovascular function that leads to improved health
Anti-bully self-defense skills and techniques for handling peer pressure
Leadership skills that set your kids apart from the crowd
Better behavior as your kids release their pent-up energy
Superior coordination, flexibility and balance
A REWARDING EXPERIENCE FOR KIDS STARTING THIS MONTH!
With new Kids Martial Arts classes starting this month, there's no better time then right now to get started!
Just complete the short, no-obligation form on the top of this page and you'll receive all the information you need to go ahead and get registered for HERO Martial Arts Academy's exciting, fun and safe Kids Martial Arts classes!